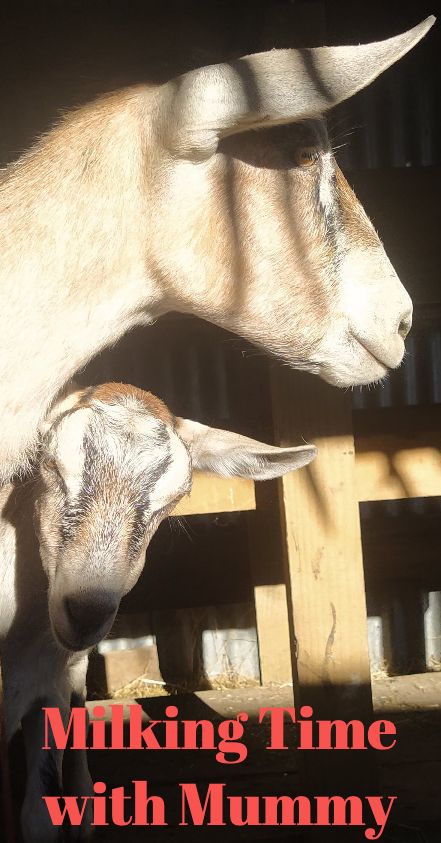 Taking your daughter to milking time is not what most cows or goats do on a commercial dairy farm. Most farms separate their young stock from the adults at birth, or as soon as possible. We do not.
In the past, we did not let a goat bring a young daughter to milking time because it would cause disruption to the process of getting the milk. But with the changing of staff, and different operators' preferences, sometimes these things are allowed.
Another mother takes her daughter to milking time, and we miss out!
In the YouTube.com video, we captured a mother and a young one. The sight has heartened many viewers. To be precise, as of May 18th, 2021, 70,000 views have clocked up on this one video alone! We also have another one, where the goat kid was allowed to drink from one side of the udder, but not the other. In this second video, it is worth noting, the young goat is even drinking from her own mother! You may wish to view this one too.
You may notice these two videos are from the Smith Family Soapmaker's channel, Goat Milk Soap NZ, which is a #GoatWatch channel. We post videos of goats, their kids, and related scenery. We are currently posting every week. Some of the content is rather short, and over time we will produce longer content as well especially of mothers who want to take their daughter to milking time.
Learn more about the Goat Milk Soap NZ YouTube channel in this video.
We have an email list you may wish to join it, and receive updates from us.
Goat Milk Soap or even the skincare stick is something that not everyone thinks of buying online. Sometimes the best approach to letting people know we exist and may be able to help them is to introduce them to our videos and other farm updates. That is why we are now posting some of our many videos on the email list.
Please feel free to join our email list, and share the emails with friends when they arrive.